At Cayce Home Improvements, we can help build your dream bathroom while keeping your Bathroom Remodeling cost within your budget. We have the best Bathroom Remodeling Columbia SC service you'll find!
Are you sick of looking the same old, outdated bathroom tiles? Is your shower or bathtub too small or worn with age?
Bathrooms are one of the most frequently remodeled rooms in our homes and its easy to see why. Bathrooms are one of the most used rooms in our homes, so it makes sense that you want yours to be functional, relaxing and comfortable.
Imagine trying to take a hot bath after a long day, but your tub is just too small for comfort. Or, maybe that hot bath wouldn't be too luxurious because your tub is grimy and outdated. If this sounds like your bathroom, its time to call in the top bathroom renovations Columbia SC company you can trust, Cayce Home Improvements.
Whether you have your own bathroom renovation ideas, or you need some professional help, we work with you to create your dream bathroom. Our dedicated and experienced team of bathroom remodelers are committed to meeting and exceeding your needs.
Create the Functional Bathroom Space of Your Dreams
Most of us start and end our days in our bathroom. Its where we get ready for the day, relax, unwind and take care of ourselves and its important that your bathroom space be conducive for all that.
If your bathroom feels old, outdated, too small, or unorganized, let us help you to transform it into the space of your dreams. A fresh bathroom remodel can really rejuvenate your home and spirit.
If your bathroom isn't serving the needs of you and your family, you need an update!
Looking to add more counter space around the bathroom sink? We can add in dual vanities. Would more storage space help keep clutter at bay? Why not add in more cupboard space and shelving? Tired of constantly picking up wet, dirty towels that your children conveniently leave on the floor? We can add in some towel hooks.
Whether you want your tiny, half bath updated or your entire master bathroom, our team works hard to design the perfect space for you.
Add Value to Your Home!
It's no secret the kitchens and bathrooms sell homes. An updated bathroom can dramatically increase the value of your home and attract more buyers.
Even if you aren't planning to sell your home anytime soon, you can take comfort in the fact that your investment into a quality Bathroom Remodeling Columbia SC project will likely pay for itself should you ever sell your home.
Bathroom Repairs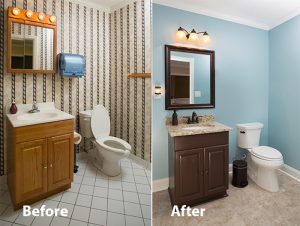 Leaky shower, running toilet, broken and chipped tiles, if any of these common problems are ringing a bell in your life, it may be time to start about Bathroom Remodeling Columbia SC.
Your bathroom is subject to a lot of moisture exposure on a daily basis. Moisture that is allowed to settle in your bathroom creates the perfect breeding ground for mold spores. Mold growth can be toxic for your health and you may have it growing in your bathroom and not even know it.
If your bathroom is in any state of disrepair, it is vital that you address the issues before they turn into major problems that can cause you some serious financial stress down the line. Bathroom fixtures aren't designed to last forever, and with the amount of use they see on a daily basis, it's no wonder your space gets worn out and dingy.
The Best Bathroom Renovations Lexington SC and Columbia SC Have to Offer
When it comes to bathroom renovations in Lexington or Columbia, you can rest assured that choosing Cayce Home Improvements means you are choosing the best.
We are a fully licensed and insured general contractor who specializes in turning your bathroom space into your own personal oasis. We take great pride in working closely with our clients to make sure we that we not only capture their bathroom vision, but also fulfill their needs.
There's a reason why we've earned the reputation for being the Bathroom Remodeling Columbia SC company you can trust. When you choose us, you can be assured that you're receiving:
-High quality craftsmanship from contractors with decades of experience
-Quality materials
-Options that work within your budget
-Dedicated customer service and support
-Easy scheduling
-Comprehensive design and planning
At Cayce Home Improvements we take pride in being a locally owned and operated business that proudly serves Columbia, Lexington, and the surrounding areas.
Give our professional team a call today and let us help transform your bathroom into one of your favorite spaces in your home.